Who is charging me and shipping my order?
The vendor of the product is the one collecting payments. GangUp securely transmits your payment information to the vendor for processing only if the deal ends successfully, and only if your minimum required discount is met. No payment information is stored within the GangUp platform. It is securely stored by the vendor's payment processor following PCI-DSS compliance rules.
When am I charged for my order?
For standard, in-stock product deals that are ready to ship, full payment is collected within 4 business days after the deal locks.

For production run and new product deals, the deposit payment will be collected within 4 business days after the deal locks. You will be notified 1-2 business days prior to the remaining balance being collected. Once the total amount has been collected, orders will ship within 7-10 business days.
What if there is a problem collecting my payment?
If the seller is not able to capture your payment, you will be notified by email. This email will have instructions on how to correct the error and complete payment.

If you do not correct this error within 3 business days of the email being sent, your order will be cancelled and you will lose out on the discount reached within the deal.

Cancellation of your order for non-payment of the balance will also result in forfeiture of the non-refundable deposit already paid. If you cannot make payment at the time of the balance being due, we suggest you contact the seller directly and see what arrangements they might be able to make with you.
Can I change my payment method after submitting my pledge?
Payment information cannot be edited by users at this time. If you need to change your payment method, please contact the seller directly and make payment arrangements direct through them.

How do I cancel my interest, pledge, or order?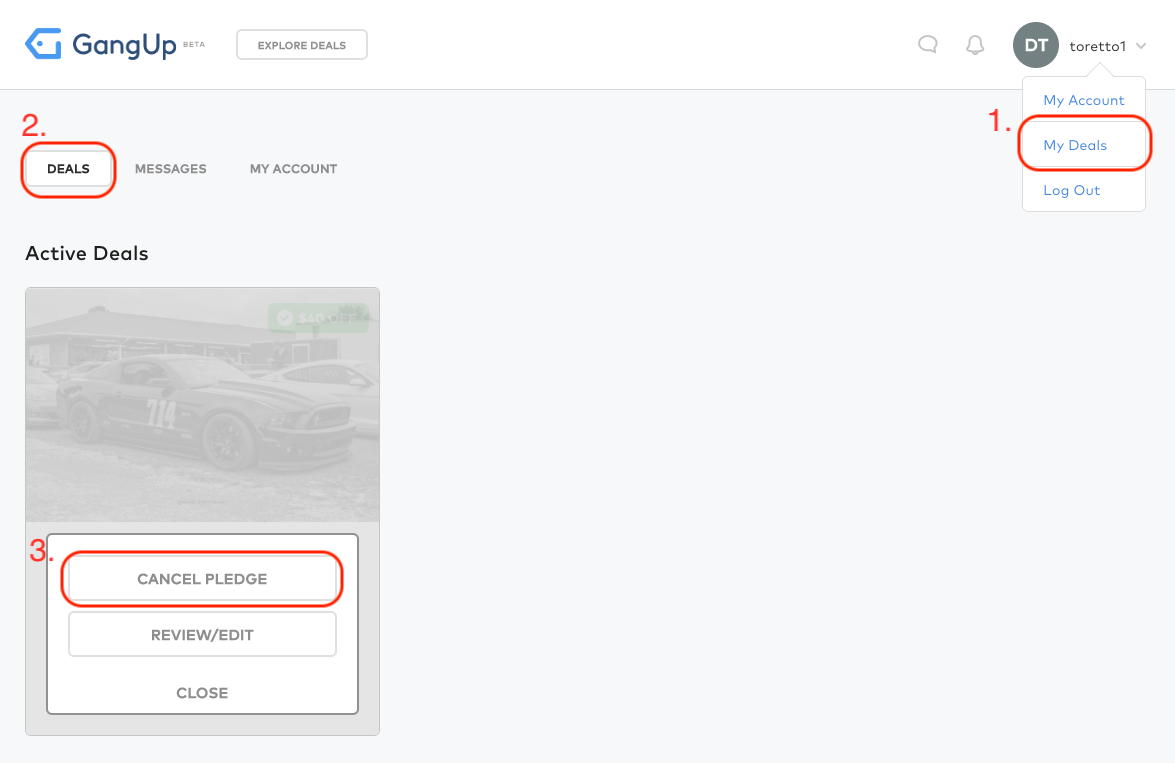 Interest or Pledge - Can be cancelled at any time before the deal locks by visiting the My Deals page.
Order - Orders can be cancelled after the deal locks only if the vendor is unable to fulfill your order as-configured by the promised delivery date. See deal terms for more information.
When will my order ship?
Shipping varies by vendor and by deal. See the terms tab on the deal page to see the specific shipping terms for that deal.

Can I return my order?
No returns are accepted on group buy orders. If you would like to purchase with the vendor's traditional return policy, contact the vendor to place an order at full retail price. The reasoning behind this is that group buys offer volume-based discounts. If the deal ends with a discount that requires 75 pledges and then 10 buyers cancel or return their order, the deal technically only received 65 pledges, yet the vendor would be forced to honor the 75-pledge discount tier for the remaining buyers, which breaks the integrity of the deal.
Is there a warranty?
Yes. The vendor's standard warranty policy applies to group buy purchases the same as full retail purchases. Warranty terms vary by vendor and product. See deal terms for more information.
If a deal just closed, can I still get in?
Unfortunately no. Once a deal closes, more members are not able to join. We suggest using the ReQuest a Re-Run button on the deal page to let the seller know you are interested in this deal if they run it again. If they do run it again, you'll receive an email when the new deal opens up.
What happens if I request a re-run of a deal?
When you request a re-run of a closed deal, you are letting that seller know that you are interested in this deal if they were to run it again. We have found that sellers are more willing to run deals again where people have shown interest by making this simple request.
To request a re-run of a deal, simply click on the request button on the deal page. You'll be asked to log in or create an account. If you haven't already created an account, we only ask for a username and email address. This is so we can keep in touch with you.
If a seller re-runs a deal you requested for them to re-run, you will receive an email notification letting you know about the new deal. At that time you'll be able to show interest in the new deal or pledge.