It's as easy as 1, 2, 3... 4.
1. Find a Gang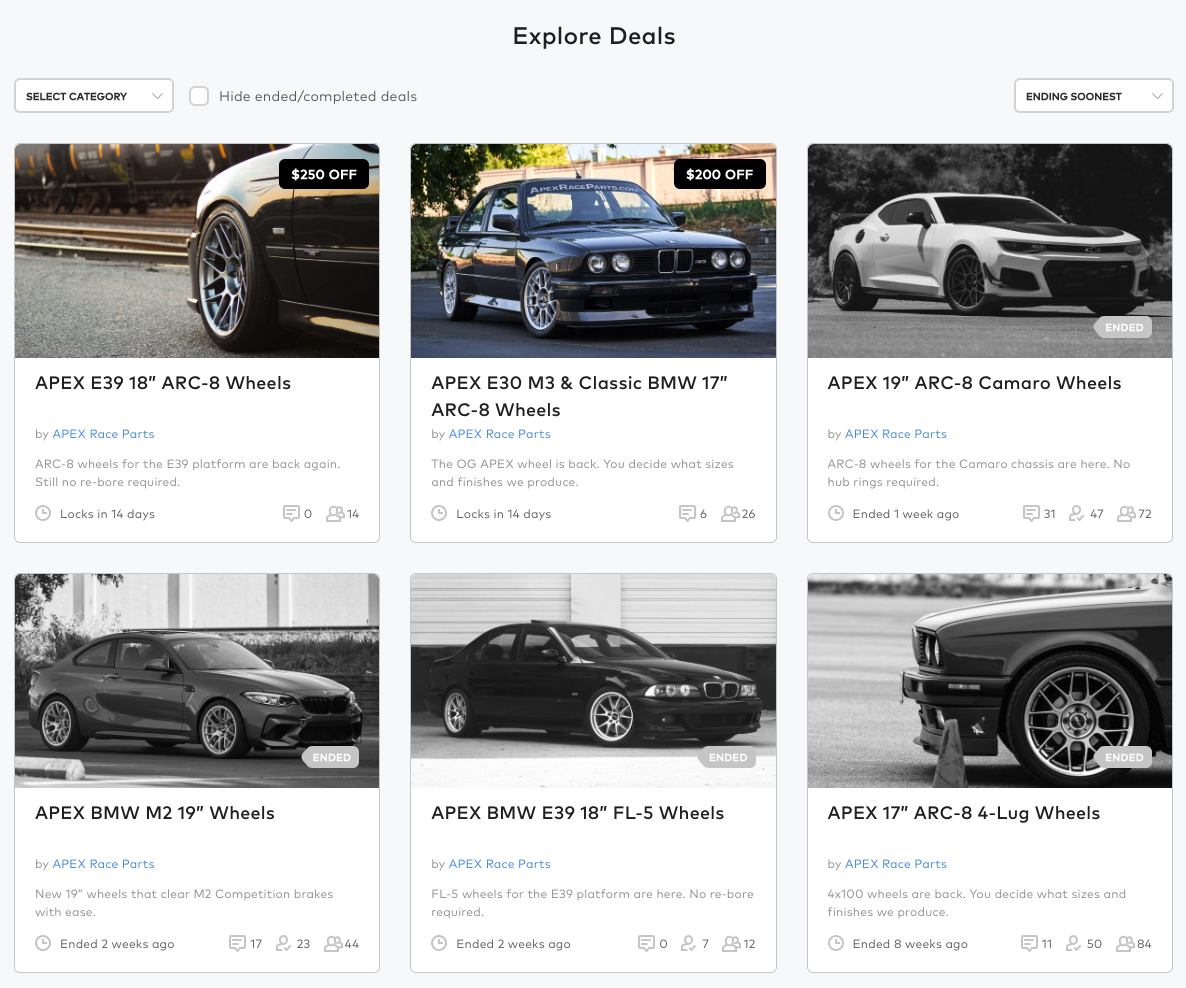 Our Home Page displays the most popular gangs currently running along with some of the most recent ones to close. If a popular deal is of interest to you then join that gang! Popular deals have a better chance of reaching higher discounts.
The Explore Deals Page displays all current and past gangs. Use this page to see what deals sellers are currently offering as well as ones they have already run.
See a gang you missed out on? Use the Request a Re-Run button on the deal page to let the seller know that you're interested in this deal. We have found that sellers are willing to run deals again when they know that there is enough interest to make it work.
2. Show Interest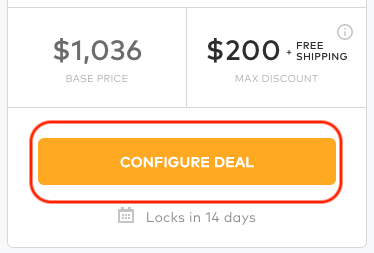 Find a gang you might want to join? Let the rest of the gang and seller know you're interested! You can simply show interest in a deal without pledging. By doing so, you let the seller and everyone else who sees the deal know that you may join before it's over, which is a good way for everyone to estimate how successful it may be. We found that more people are willing to join gangs that have a lot of interest as this helps people feel more confident in their discount being reached.

Showing Interest takes only a few moments. Click the Configure Deal button and select the deal configuration you are interested in. Next select the discount range needed to be reached before you'd consider joining the gang. Then select any optional accessories. On the review page you can estimate shipping if it's not free, and see what your price would be if your discount is reached.
To officially submit your interest you will need to set up a free account. All you need to provide is a username and an email address. Once you provide that, your configuration is saved and you are added to the Interested list. Submitting your interest saves your deal configuration, so it will be that much faster if you choose to pledge later.. Showing interest also allows us to send you important updates about the deal posted by the vendor, which commonly include production and timing updates that could effect or decision to join. Often deals get upgraded in the last few days and you don't want to miss out on that news.

Submitting interest does not make you a member of the gang. To be a member of the gang and to secure your place in line you need to officially pledge. Simply showing interest is a way for you to stay informed of the deal's status only If you want to secure your place in line and be guaranteed product if your discount range is reached then we suggest you submit your pledge.
Editing Your Interest Configuration - Your product configuration as well as your discount range can be changed at any time before the deal locks by visiting the My Deals section within the My Account page.

Note: During the final 7 days of a deal, it is not possible to only show interest. You must pledge at this point in order to be a part of the deal.
3. Pledge
When you pledge, you officially join a gang. When you're pledged it means you're committing to buy, so if your goal is reached by the end of the deal then you will be charged for an order and you will receive your desired product. To submit your pledge you will need to review your selections made when you showed interest to ensure that this is the configuration, discount range, and options you want. If you didn't initially show interest and the deal no longer allows for a simple interest submission, you will need to select your product configuration, discount range, and additional accessories. You will also need to submit your shipping address, billing address, and payment information.
You should submit your pledge right away. First, submitting your pledge locks in your place in line. If a deal has limited stock and you wait until the end to pledge, there's a good chance you won't get the exact product you wanted. Second, waiting until the end to pledge like you would in an auction, hurts more than it helps. Submitting your pledge early shows the rest of the community that you are in it to win it. The more people that pledge and join the gang, the more discount each person can get. When a newcomer sees that a gang has a lot of people pledged, they are more likely to join themselves as they are more confident that their discount range will be reached or even exceeded.

Pledging is a risk-free process. Although payment information is required, you are not charged when you pledge. You are only charged after the deal has closed and then ONLY if your discount range is met or exceeded.
Example: You submit your pledge with a discount range of $50-$100 off. At the close of the deal, there's only enough pledged to reach the $25 off discount. Because your discount range was not reached, your pledge is cancelled and you are not charged anything. If the deal were to have enough people pledged for that $50 tier to be unlocked then you would be charged once the deal closes. You also would receive the highest discount reached by the gang, so if the deal were to reach the $75 tier then you would receive $75 off since that tier falls within your discount range.
When submitting your pledge, your payment method provided will be authorized for $1. This is to ensure that the information entered is valid. The authorization will fall off your account within 3-5 business days, depending on your bank.
Editing Your Pledge Configuration - Your product configuration as well as your discount range and additional accessories can be changed at any time before the deal locks by visiting the My Deals section.
4. Recruit
Your job isn't done just because you've pledged. If you really want to ensure you get the biggest possible discount, share the deal everywhere you can. Post the link on forums and social media to spread the word. The more people that see the deal, the higher the chances are that bigger discounts will be reached. You'd be surprised at how effective a single post can be. We've seen pledged members turn an almost dead deals into top tier reaching deals by simply sharing the deal with others and letting them know that they are already in.